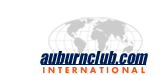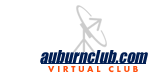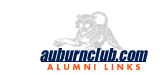 Auburn University is the owner of all rights, title, and interest in and to the indicia (logo, trademarks, and symbols of Auburn University) used in connection with this web site. Use of the indicia without the express written authorization of Auburn University is prohibited. Auburn University and the Auburn Alumni Association are not responsible for the contents or accuracy of information on the Auburn Club web sites - Auburn Alumni Association

Information on how your Auburn Club can get a website

If you would like a link to your Auburn Club site from AuburnClub.com, please email: link@auburnclub.com

Thank you for visiting AuburnClub.com - no matter where in the world you are, you're only a click away from your Auburn family!
War Eagle!